Mission
The Edwin Ginn Library provides collections, services, and technology that anticipate and meet the research and instructional needs of The Fletcher School. The Library maintains a graduate-level research and study environment conducive to exploration, discovery, and knowledge creation.
Collections
The collection at Ginn Library supports research and teaching within the Fletcher School of Law and Diplomacy. Materials in the collection include those addressing topics of international relations, law, diplomacy, peace and conflict studies, business, economics and international development, military and security studies, and a variety of related social sciences displines. The library contains over 120,000 volumes, including 270 current periodicals and serials, and provides access to over 30,000 electronic resources and databases through the Tufts University Libraries system.
United Nations and Other International Organizations Documents
The Ginn Library has League of Nations and United Nations documents, as well as publications from numerous international organizations, in print, on microfiche, and online. The library maintains a large collection of international treaty documents, and also has case reports of the International Court of Justice, the European Court of Justice, and the European Court of Human Rights.
Special Collections
The papers of Edward R. Murrow and of Ambassadors John Moors Cabot and Philip Kingsland Crowe have been deposited in the Ginn Library. They are now physically housed in Digital Collections and Archives in the Tisch Library building, so that they may be properly preserved, and they are available for research there.
Perspectives Gallery (Photography & Art)
The Fletcher Perspectives Gallery is an exhibit space for photography and art, with the goal of highlighting world cultures and promoting understanding and tolerance.
The gallery has been in Ginn Library since 2001 and contributes to our role as a space for introducing and sharing a diversity of viewpoints and perspectives on the world we live in. A second gallery space in the Office of Development and Alumni Relations at 128 Professors Row was opened in 2017. Photographs displayed in Perspectives have been submitted by Fletcher School students, faculty, and staff, and serve to showcase the technical skill, artistry, and international experiences of this community.  
Edwin Ginn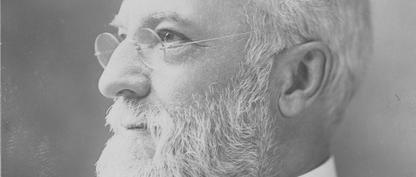 Ginn Library was established in 1938 and is named after donor Edwin Ginn, a Tufts alumnus (1862) and founder of the World Peace Foundation. The original materials in Ginn Library were part of Edwin Ginn's personal collection as the Library for World Peace Foundation. 
Read more about Edwin Ginn at American National Biography Online